Digital Transformation for Stadium and Arenas
PASSOLIG is currently selling the tickets of top 36 football teams; Super League and TFF First League teams.
In 2013, according to the Government's decree and the authorization of the Turkish Football Federation, E-Kent was contracted as the sole "Centralized E-Ticketing System Integrator" operating TFF's e-Ticketing System for centralized ticketing, fan identification, stadium access control and surveillance of Super League and TFF 1st League football teams.
Since 2014, E-Kent is managing world's largest stadium transformation under the PASSOLIG Centralized E-Ticketing Project.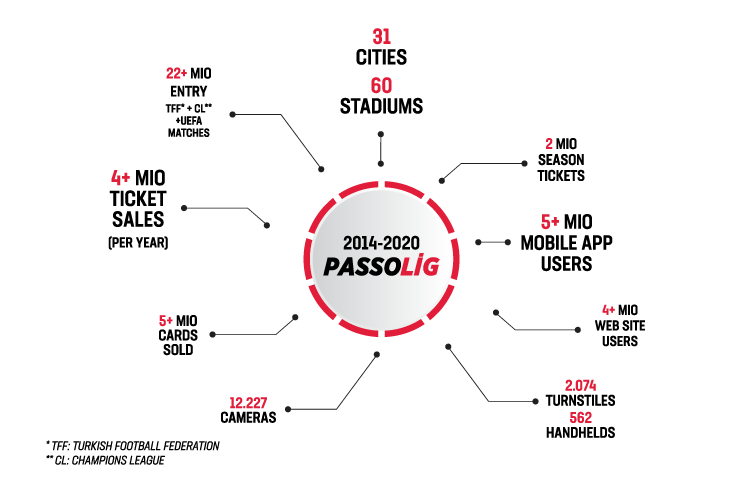 WHITE LABEL TICKETING
E-Kent provides technological infrastructure for WHITE LABEL TICKETING solution for stadiums, venues and promoters.
Through its ticketing platform PASSO, E-Kent is selling all the football match tickets of Super League and TFF First League teams in Turkey, where it also sells basketball, other sports and event tickets.
PASSO ticketing system is specifically designed to meet your club's needs offering a user friendly and simple platform to manage your ticketing system. PASSO allows you to sell your own tickets on online and mobile platforms.
PASSO ticketing system is designed to meet clubs & venues needs fulfilling the fan experience.
BENEFITS
Own your database
Get Powerful Insights
Know your fans
100% control over your tickets
Create customized offers
Engage with your fans
TICKETING SYSTEM FEATURES
Electronic Ticket
Online Ticket Transfer
Multiple Product Sales
Blacklist Management
Campaign Management
Season Ticket Resale
Seat Map/ Seat Selection
Online Season Ticket Sales